Having oily skin can feel like a curse, but it doesn't need to!
All you need is a skincare routine that's specially designed for oily skin. By targeting your specific skin problems and using specialized products, you can get that shine under control and start looking your best.
These simple guidelines will help you get the smooth, silky, clear skin you've always dreamed of.
The Best Skincare Routine for Oily Skin: Follow These Fundamentals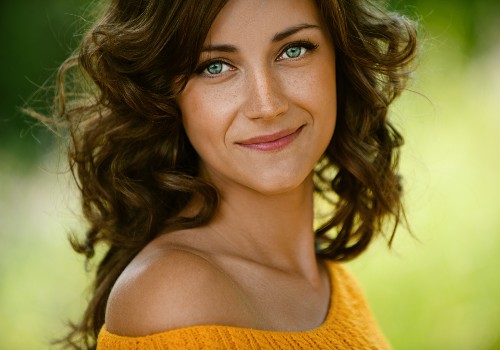 Cleanse in the Morning and at Night
Some skincare experts recommend skipping your morning cleanser, since it strips your face of the natural oils it produces at night.
But for oily skin, that's a recipe for disaster.
Oily skin contains excessive quantities of sebum glands, which means that if you have oily skin, you naturally produce too much oil. You need to compensate for this by cleansing twice a day: when you wake up and before you go to bed.
Resist the temptation to use a harsh cleanser, as these can aggravate your sebum glands and make them produce even more oil. Opt for a lightweight foaming cleanser in the morning and a slightly stronger cream cleanser at night.
And if you find that your skin is particularly sensitive to cleansers, even gentle ones, don't panic! Look for a cleanser that's non-comedogenic (free of pore-clogging ingredients) and doesn't contain parabens, phthalates, sulfates or fragrances.
Use a Different Moisturizer in the AM and PM
Your skin has different needs throughout the day, and if you meet these needs, you'll be rewarded with a healthy, shine-free complexion.
One of the most important needs: moisture.
Yes, even if your skin is oily, you need to use moisturizer. If you don't, your sebum glands can become overactive, making you even more oily than you'd be if you used moisturizer.
Oily skin responds best if you use a different moisturizer in the morning than at night. Use a lighter gel-based one in the morning to prevent shininess throughout the day, then use a richer cream-based one at night to replenish the moisture you lost during the day.
Moisturizers that are formulated for acne-prone skin work especially well on oily skin. They're typically oil-free and water-based, so you won't be adding to your oil buildup by applying them.
Perfect Your Skin with an Exfoliating Toner
Sometimes oily skin needs a little extra help even after your regular cleansing routine. This is where toner comes in.
Toner is an astringent liquid that typically contains acids like lactic acid or glycolic acid. It balances your skin's pH, clears, and shrinks your pores, evens out your skin's texture, and delivers water directly to your skin cells.
Oily skin will benefit from an exfoliating toner, which typically contains salicylic acid or a similar exfoliant. These toners gently remove dead skin cells, increasing the effectiveness of the moisturizers and serums you apply afterwards.
After cleansing, soak a cotton ball in toner and apply it evenly to your face. Your skin will quickly feel cleaner, fresher and healthier.
Refresh Your Complexion with a Weekly Face Mask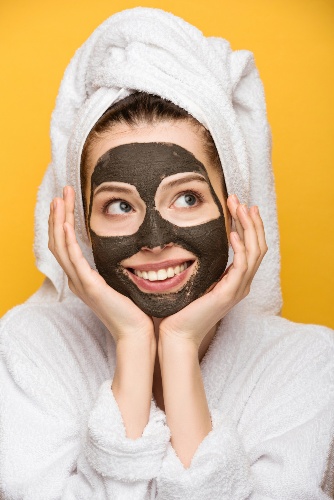 Skincare and self-care often go hand-in-hand, and there's perhaps no better example of this than face masks.
Oily skin is a perfect candidate for many types of face masks, which slowly draw dirt, grime and toxins out of your pores and carry them away when you remove the mask. In addition to deep cleaning, face masks can also soothe irritation, brighten dark spots and combat loose, wrinkly skin.
Once a week, treat yourself and your skin to a face mask, which you can make at home or find in the skincare aisle. Popular mask options for oily skin include bentonite clay, activated charcoal, and kaolin clay.
Remember to moisturize after removing your face mask, as the deep clean also removes your moisture barrier!
Control Your Shiny Skin Throughout the Day
Even if you end your morning skincare routine looking fresh and smooth, that oily sheen can creep back up on you later in the day.
But you can combat it by incorporating a few simple tricks into your regimen.
If you wear makeup, a quality mattifying primer as your first layer will keep that pesky shine at bay all day long. Look for primers that contain silicone, which acts as a barrier to control oil in addition to smoothing your skin out.
Astringent towelettes are also handy weapons in the fight against oil. They come in portable packs similar to wet wipes, but they're pre-soaked in astringents like witch hazel that control shiny skin with just a few dabs.
Make Good Use of Oil Blotting Papers
Blotting papers are a must-have for anyone with oily skin. At home and on the go, they provide a quick and easy way to remove excess oil from your face and keep an eye on your skin chemistry.
If you're out and about and start to feel greasy, a couple of pats with a blotting paper will take care of that extra oil without messing up your makeup or irritating your skin.
And you can check your skin's oil production throughout the day by periodically touching a blotting paper to your problem areas. This allows you to keep track of your sebum levels and plan ahead for the worst times of the day.
Use Tea Tree Oil on Your Most Problematic Areas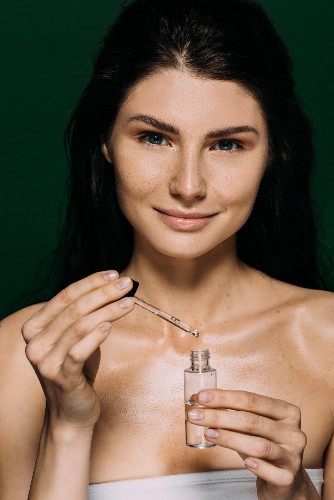 Many people love tea tree oil for its pleasant scent, but if you have oily skin, you'll love it for another reason. It's a surprisingly effective way to control your oil production and maintain your shine-free skin.
Putting oil on oily skin sounds counterintuitive, but tea tree oil has antiseptic properties that make it perfect for overactive sebum glands. It kills acne-causing bacteria, shrinks pores and calms down your oil glands.
Tea tree oil is known to reduce inflammation, but it can be irritating on sensitive skin. Apply a small amount to only your oiliest areas with a cotton ball to reduce the odds of adverse reactions.
Other Simple Tips for Controlling Oily Skin
Still need some help reining in your oily skin? Try these easy suggestions.
Cut Back on Your Makeup Use
Makeup can be great for covering up oily skin, but wearing too much of it can make the problem worse. Instead of using thick, full-coverage foundation, try a tinted BB cream or moisturizer, especially during the hot summer months.
Wear Broad-Spectrum Sunscreen
The sun's UV rays can do a lot of damage: sunburn, cancer, premature aging and dryness, the last of which can make your oil glands jump into hyperdrive. A broad-spectrum sunscreen with an SPF of at least 30 will shield your skin from the drying sun, keeping your oil production low.
Avoid Alcohol and Spicy Foods
A night out for tacos and margaritas sounds great, but both spicy foods and alcohol make you inflamed and sweaty, which in turn leads to greasy skin. Keep the boozy drinks and the hot sauce to a minimum, opting instead for fresh vegetables and good old water.