Face rollers are great for your skin — they help to energize your skin while cooling it.
You might not have heard of it, but face rolling is a form of massage therapy that soothes and de-stresses tense muscles while also improving skin tone. The act itself includes smoothing a stone over your skin to remove excess fluid from beneath the surface.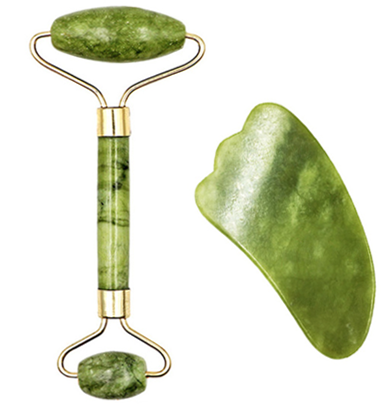 Face Roller: reduces face puffiness, relieves muscle stress, firms the skin, and gives it a radiant, lifted appearance.
Face Massager for at-Home Use: is created from natural semi-precious stone. It energizes the skin while cooling it.
Gua Sha: was designed to improve fine lines with upwards pressure on your face and improve your body's well-being.
Fresh skin: keep your Gua Sha and the Face Jade Roller in the refrigerator to help with morning puffiness and rejuvenate the skin.
Price: $16.99 (Note: We ship within the U.S. only.)
Your skin has a memory. In ten, twenty, thirty years from now, your skin will show the results of how it was treated today. So treat it kindly and with respect.

Violet Grey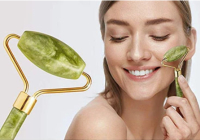 Large Roller
Use it for your cheeks, forehead, and neck. It will firm your skin and make it look lifted.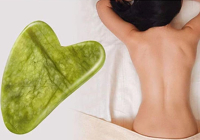 Gua Sha Stone
Use it for a full-body massage. It will help with tension and stress relief.
Small Roller
Use it for your eyes. It will help to reduce dark circles and puffiness under your eyes.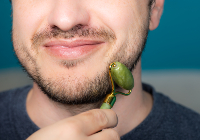 Rollers or Men
All benefits of face rollers for men too! It will help you look fresh and energized.
Frequently Asked Questions

Is It the Right Product for my Skin Type?
Any skin type can use it because it doesn't include artificial perfumes, colors, sulfates, parabens, or mineral oil.
Is Jade Roller Safe?
Yes. It is made from natural material: premium jade stone, which is a beneficial mineral to skin and body beauty. Long-lasting, super easy to care for and use.
Can I Use It with My Skin Care Products?
Yes. The jade roller increases the effectiveness of your serums, lotions, and oils during the application procedure.
How Long Should I Use the Jade Roller?
The whole process should take up to five minutes, depending on how many passes you're doing, your speed, and how many areas of the face you're using.
How Often Should I Use My Jade Roller?
You can use the jade roller as many times as you want. Most customers use it on a daily basis during a skincare routine.
Do Cold Jade Rollers Perform Better?
An extra-cold tool is very beneficial to use as it tightens pores and refreshes a tired face.
Safe and Natural Material
Jade Roller is made with Jade stone. It is free of additives and chemicals, and it doesn't include artificial perfumes, colors, sulfates, parabens, or mineral oil. Jade provides a cooling effect that soothes irritation and reduces inflammation.
Jade can be found in a range of hues. The most typical jade color is vivid green, but you might also find a mix of white and cream in your stone. Typically, genuine jade contains milky white or black particles throughout. They can occasionally resemble veins or threads.
How to Properly Use a Jade Roller?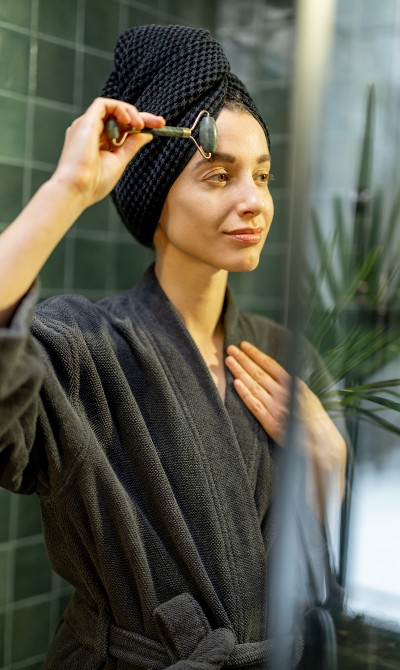 STEP 1
You need to wash your face: the best way is to use a gentle, non-abrasive cleanser that does not contain alcohol. Moisturize your face with a face oil, serum, or any moisturizer. It gives even more hydration!
STEP 2
Start with the large end of the jade roller: begin with your chin, and switch to your forehead. Start in the middle of your forehead and roll towards your ears. Repeat rolls 5 – 6 times in each area.
STEP 3
Continue with the small end of the Jade roller: roll from the inner eye towards to outer corner. Repeat the same method as the under eyes and on your crows' feet. Switch to your jaw. Repeat it 10 – 12 times in each area.
STEP 4
Clean your roller: you need to sanitize your roller. Use gentle soap and warm water to wash it. Finally, roll it out to dry on a fresh towel.
GUA SHA to Relieve Tension of Muscles
You can apply gua sha to your scalp, body, and face. Gua sha can relieve muscle tension and pains since it has been used to promote healing by scraping muscles to stimulate blood flow. You can use facial gua sha to be a relaxing procedure. Move gently, take deep breaths, and most importantly, drink plenty of water. This ritual can be performed every day or two to three times weekly in the morning or evening. Use each movement 5–10 times per area for the greatest results.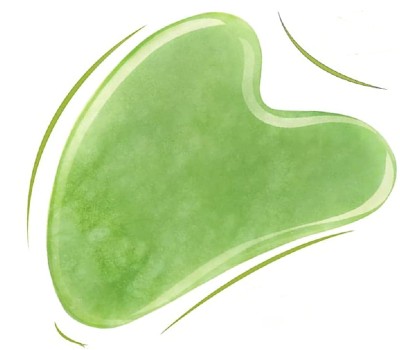 Step-by-Step Instructions on Daily Jade Roller Routine (Video)